Denaramane belongs to the Mudigere Taluk in Chikmagalur. It covers the vast area between Shiradi and Charmadi Ghat. Devaramane Hills is located in Gutti village brings you close to the nature and its an exhilarating experience. Travellers can climbs the peaks, walks across the grasslands, crosses gurgling streams, and views magnificent waterfalls. The area is lush green even in summers.
Devaramane offers a number of variations that makes it an ideal Trekking spot for both beginners and hardcore trekkers. There are number of hillocks to climb, the Ettina Bhuja – Bulls Hump-back, also known as Shishila Gudda, towers over the rest of the peaks in the area. From a height of 3000 ft, the roar of the river flowing beneath can be heard. The famous Kapila fishing camp is located nearly 15+ km from Devaramane.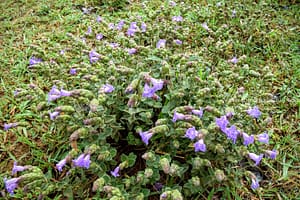 The place where these unique purple flowers, called Haarlu, blossom once every 12 years. "Haarlu is quite similar to the Kurunji flowers that grow in the Himalayas. These flowers almost gives the entire hill a carpeted look.
How to Reach: Bangalore – Mekanagadde – Gutti village – Devaramane
Daily, buses play between Bangalore and Mudigere, board a bus and hit the national highway. There are local buses available for Gutti village from Mudigere. One can also catch a local transport to reach Devaramane.
Exact Location: Western Ghats. Its located near Gutti Village in Karnataka.
District: Chikmagalur
Nearest Town: Mudigere
Distance from Bangalore: 258 kms.
Best Time to Visit: Early Winters.
Nearest Homestay: Mekanagadde Homestay
Devaramane Lake: Devaramane Lake is located close to Devarmane. Its a beautiful tranquil lake, considered to be an ideal spot for pitching a camp.
Mudigere: About 3200 above sea level, Mudigere is 25 km from Devaramane and is a Panchayat town of Chikkamagaluru. Its surrounded by coffee plantations.