Mekanagadde Homestay in Chikmagalur is the best place to break free from the routine life. Experience a serene and tranquil living for family groups at the coffee estates of Mudigere, Chikmagalur. Mekanagadde Homestay is located on the borders of two beautiful hill stations Chikmagalur and Sakleshpur. Mekanagadde village shares serenity with Chikmagalur and Sakleshpur. This is an important place as three districts – Chikmagalur, Sakleshpur and Dakshina Kannada (Mangalore) borders meet here. The homestay is rich in heritage with generations of families having lived and made it their homes.
Malnad Homestay near Mudigere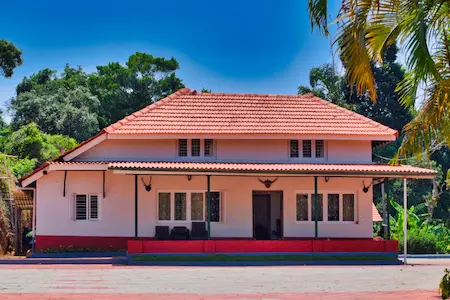 Mekanagadde Homestay, situated in Mudigere, is an exceptional homestay in Chikmagalur. Nestled amidst the captivating beauty of coffee estates, it is a must-visit destination for nature enthusiasts. Its close proximity to Bettada Bhairaveshwara, Ettina Bhuja, and Devaramane, coupled with its serene ambiance, makes it an ideal escape from the hustle and bustle of city life. Surrounded by picturesque mountains and verdant coffee plantations, Mekanagadde Homestay is truly a gem among homestays in Chikmagalur, and is also budget-friendly.
One of the main attractions of this Chikmagalur homestay is its proximity to Pandavar Gudda, which is just 2 km away. Exploring the misty mornings and the refreshing breeze unique to homestays in Chikmagalur is an enchanting adventure that leaves a lasting impression on visitors. Mekanagadde Homestay not only offers a refreshing stay, but also provides a range of activities for guests, including estate walks in the morning and yoga sessions in a tranquil setting, promoting a healthy and invigorating lifestyle. Engaging in these activities amidst the natural surroundings sets Mekanagadde Homestay apart from other homestays in Chikmagalur.
When it comes to recreation, Mekanagadde Homestay offers a plethora of options, including indoor and outdoor games like badminton, mud volleyball, and trekking, ensuring that guests can enjoy their time to the fullest. This level of entertainment distinguishes Mekanagadde Homestay from other homestays in Chikmagalur, guaranteeing a memorable and enjoyable stay. For those seeking a peaceful retreat, Mekanagadde Homestay offers a small home library where guests can unwind with a book and a cup of Chikmagalur's finest coffee, further enhancing the homestay experience.
Why Choose a Homestay in Chikmagalur over Resorts?
If you are looking for a relaxing and memorable vacation in Chikmagalur, one of the best options is to choose a homestay rather than resorts. A homestay is a type of accommodation where you stay with a local family and experience their culture, cuisine and hospitality. There are many benefits of choosing a homestay in Chikmagalur, such as:
You can enjoy the scenic beauty of the coffee plantations, hills and forests that surround the homestays. You can also explore the nearby attractions such as waterfalls, temples and wildlife sanctuaries with the guidance of your hosts.
You can savour the authentic taste of the local cuisine, prepared with fresh and local source of ingredients. You can also learn some cooking tips and recipes from your hosts and try your hand at making some dishes yourself.
You can interact with the friendly and warm people of Chikmagalur and learn about their culture, traditions and history. You can also participate in some of their festivals and celebrations and get a glimpse of their lifestyle.
You can support the local economy and community by staying at a homestay. You can also contribute to the conservation of the environment by opting for an eco-friendly homestay that uses renewable energy sources and minimizes waste.
You can get a comfortable and cozy stay at a reasonable price. You can also enjoy some amenities such as Bonfire, games, hot water, etc. depending on the homestay you choose.
Choosing a homestay in Chikmagalur is a great way to experience the charm and beauty of this hill station. It will also give you an opportunity to make some new friends and memories that will last a lifetime.
Best Homestay in Chikmagalur for Family Group
Good memories that stay with you
---
"Those were such wonderful days, in the evenings the whole family would sit together and chat that was the secret of our bonding. Today technology has spoilt everything, the whole family sits together in front of the TV but they don't interact, I wish I could go back to those old days".
Wake up to the chirping of birds, breathe in absolutely pure and refreshing cool breeze and take a walk among the misty lush green stretch of land. Immerse yourself thoroughly in nature and pleasant country side living. The Chikmagalur – Sakleshpur region where Mekanagadde lies is one of the best tourist destinations of Karnataka, more famous as a hill station for families and friends.
At Mekanagadde, we offer large and spacious homestay to live in. The homestay has adequate facilities to meet your requirements. Our specialty includes the serving of Malnad cuisine. Our visitors experience complete calmness and relaxation, a pleasant deviation of mind from the busy everyday schedule to pure tranquillity and refreshing positive energy.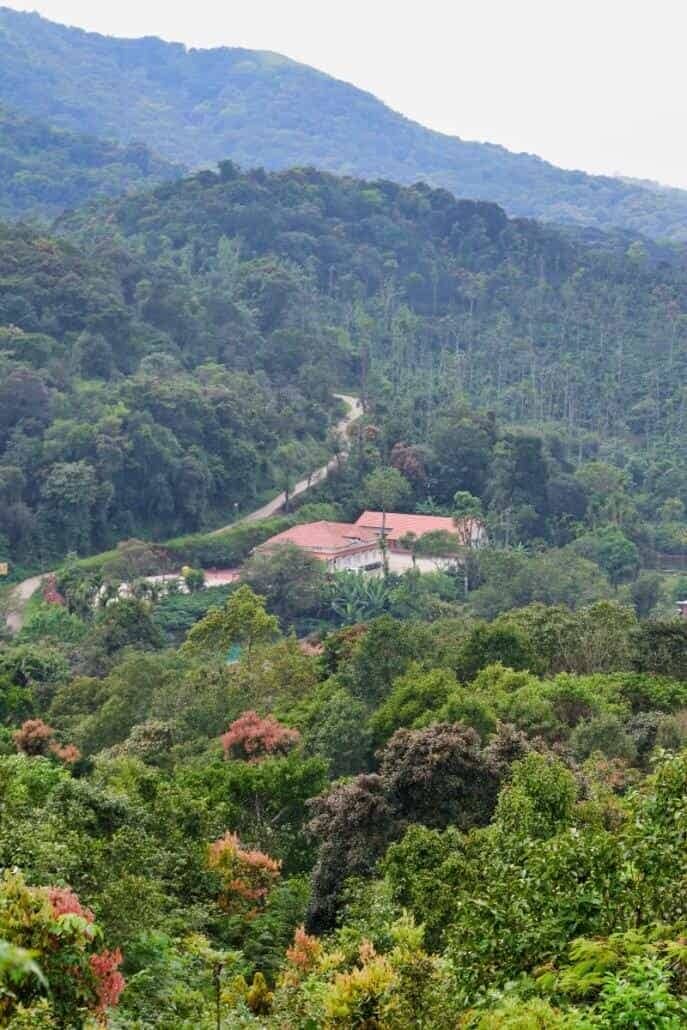 Nearby Places to Visit
Explore & Experience
Western Ghats, it has a diverse topography, with mountains, coffee plantations, thick forests, paddy fields and rivers, which are ideal for trekking, sightseeing and water stream visits.
Some of the intresting things to do are
Trekking to Ettina Bhuja
Sunrise / Sunset at Pandavar Gudda
Sightseeing at Devaramane
Soak in Magajahalli Waterfalls
Coffee Plantation Walk
Bonfire Evening
Cycling
Indoor / Outdoor Games
Gallery inspired by nature
---
They say that a picture is worth a thousand words, so that's why we always want to document. Immerse yourself in our nature around, with these wonderful images taken by us.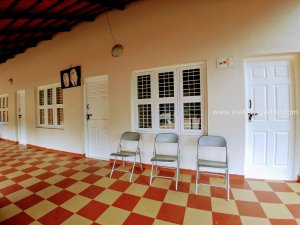 About Chikmagalur
---
Chikmagalur has played host to an event, thanks to which, countless Indians wake up to brighter mornings. Centuries ago, when the Sufi mystic Baba Budan smuggled seven coffee beans from Yemen into India, he probably didn't bargain for millions of coffee junkies unwittingly blessing his soul everyday, with every sip of their coffee. Chikmagalur, whose hills nurtured the coffee culture at its bosom, is a green slice of heaven on a permanent coffee high. In and around Chikmagalur there are beautiful hill stations and places of picturesque beauty.
The district is strewn with many holy spots and proliferates legends associated with stories from the epics of Ramayana and the Mahabharata. It is generally cool throughout the year, with a maximum temperature of 28°C. The best season to visit would be from September to March. The river Hemavathi is a tributary of Kaveri. This river originates in the Western Ghats – Ballala Rayana Durga – in Chikmagalur. The river joins with its main tributary, Yagachi river, at Hassan, then flows on to join Cauvery near Krishnarajasagara. The river is nearly 245 km long from its place of origin to where it converges with Cauvery.
What our guests say
---
I had a wonderful time staying at Mekanagadde homestay. The hosts were very friendly and helpful, and made me feel at home. The room was cozy and clean, and the location was convenient for exploring the nature. I enjoyed chatting with host and their family, and learning more about their culture. I would definitely recommend Mekanagadde homestay to anyone looking for a comfortable and authentic experience.
Jane D'souza
Bangalore
We came to this homestay after recommendation from friends and when we finally arrived there, we were so happy to stay there for most of our Chikmagalur stay because it was lot better than what we expected. Its a dream location property, very clean, spacious, well maintained and in center of beauty of nature. The family is so caring and accommodating and served authentic super-delicious homemade food at very reasonable rates. We've never had such an amazing homestay experience before. It also has spacious play area that our kids enjoyed a lot. We had a peaceful and refreshing stay and recommend everyone to stay here for few days if you are planning for Chikmagalur.
Siddharth Gupta
Mumbai
We were 3 families with kids stayed in Mekanagadde Homestay during Last weekend of October 2022. Our stay here was simply awesome. All Thanks to Mr. Prasanna and his wife. It's really "A Perfect Getaway" to take a break and stay in such peaceful homestay amidst the greens. Please don't come here with a mindset of a Resort/Hotel, this is purely a homestay where you will experience nature's beauty and homely hospitality.
We stayed in for 2 days, we really enjoyed our stay here. Early morning you wake up to the sound of chirping birds and when you step out of the room, you see lush greenery with all the fog around. You would be served with hot coffee which you can sit outside in the nature and sip it slowly. Overall the room is spacious and also the bathroom is neat and clean.
Superb service and good food and a special mention about the hospitality of the host . Will certainly get back there just to eat and sleep and chill, far away from the maddening crowd. Thank you.
Rahul Shetty
Mangalore
We were here over the christmas holiday, and had booked the entire property. I was traveling with my parents, my husband and our cousins.
The place has one main house, with two rooms on the top floor and a hall. Had a lovely view of hills. A building with Three room unit, a few meters away.
The property had a lovely spacious space, with a good range of flowers sideby. Two dogs visited us often, who kept my son busy.
We absolutely loved the food here and had most of our meals here. Infact I think the food was a big highlight for us. Everyday we would have a variety of food with a lot of local delicacies. The kadabu with chicken curry, fried fish and pork were clearly the highlights. They arranged for a bonfire and also gave us some lovely home made snacks like fresh bajji and pepper chicken.
Overall fantastic experience, probably the best homestay experience I've ever had and best trip to Chikmagalur.
Niharika S
Bengaluru