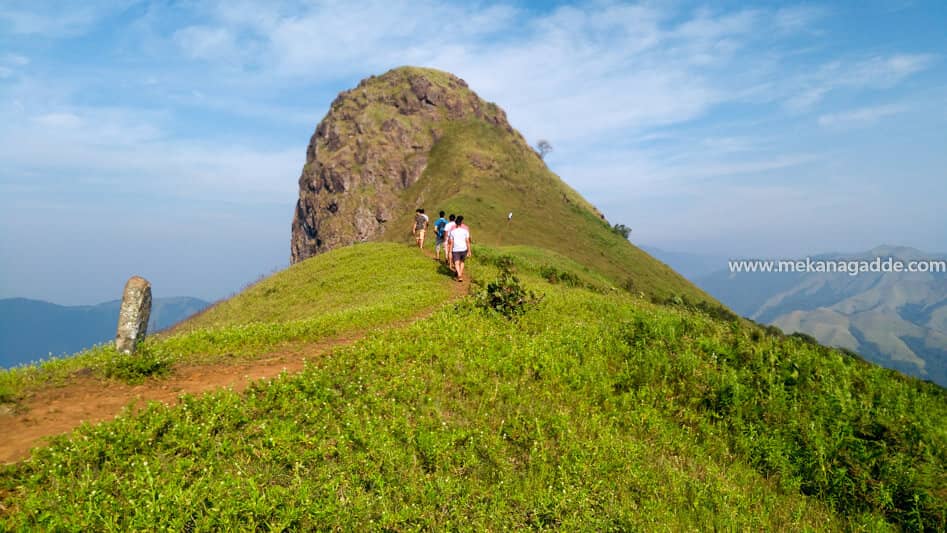 Place: Ettina Bhuja Hill
Distance: 8 Kms from Mekanagadde Homestay
District: Chikmagalur
Type: Sightseeing, Temple & Trekking
We can find a historic very old temple and next to it is the gigantic Shishila Gudda (Ettina Bhuja) hill.
One of the famous trekking spots in Karnataka. Ideal place for medium trekking and photography. We can also see the South Canara part of district from this place.
This is the most wonderful place and is probably the only one of its kind, in the whole surroundings of Chikmagalur, Mudigere and Sakleshpur.
In the southern belts of Karnataka, you can find the twin trekking sites of Ettina Bhuja and Amedikal. Although the latter is more sought after by seasoned trekkers, it is Ettina Bhuja that has recently been frequented by a host of amateurs and first-timers. The main reasons behind its prominence are mainly because of its relatively easy access. This place is one of the best extreme trekking tracks in Karnataka.
| | |
| --- | --- |
| Starting Point | Nanya Bhairaweshwara Temple, Byrapura |
| Ends Point | Ettina Bhuja |
| Trekking Distance | 4.2 Kms |
| Reporting Time | 06:00 AM to 09:30 AM |
| Trekking Duration | 3 Hrs 0 Mins |
| Trekking Type | Medium |
| Parking Fee | 50 Rs |
About Ettina Bhuja
Ettina Bhuja (literally translates to Ox's Shoulder, in Kannada), is located close to the temple town of Dharmasthala. Byrapura village in Mudigere range of Chickmagalur district to be exact. About 250km from Bangalore, it makes for a good weekend trip away from the hustle and bustle of the city. Although it's not a popular trail among trekkers, Ettina Bhuja offers scenic landscapes in its short 3 hours, around 5km round-trip trek. At about 1300m altitude, this trail is perfect for beginners. The trekking usually starts at 6 AM and no later than 3 PM on any given day.
It features a mosaic of grassland and forest patches in undulating terrain. One can find bamboo and cane plantations on the way to the top. If lucky, one might even sight sambar deer. Trek along this pleasant terrain to the sound of chirping birds in the lap of nature.
Once you reach the top which looks like the hump of an ox, feast yourself to panoramic views of dense green forests especially during monsoons.
Ettina Bhuja / Shishila Gudda Photos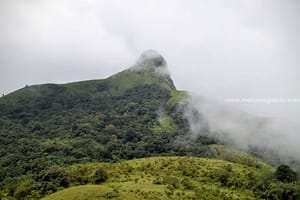 FAQ's on Ettina Bhuja
Which is the nearest homestay to Ettina Bhuja?
Mekanagadde Homestay
What is the name of the temple near Ettina Bhuja?
Nanya Bhairaweshwara Temple, Byrapura
How far is the Ettina Bhuja from Mudigere?
Ettina Bhuja is 25 Kms Mudigere town which takes less than 45 minutes to reach the Byrapura village.
Do we need trek permission from forest department?
Most of the time forest guards will be there to keep check of the travellers.
How much is the trekking charge for Ettina Bhuja?
There is no charge as of now and is made free. You need to pay parking charges. Earlier 250 Rs was charged per person and was removed.
What is the distance from Mysore to Ettina Bhuja?
The distance from Mysore to Ettina Bhuja is 190 Kms and takes 4 hours 30 minutes.
What is the distance from Hassan to Ettina Bhuja?
The distance from Mysore to Ettina Bhuja is 78 Kms and takes 2 hours.
How long is Ettina Bhuja Trek?
Around 6 kms round trip trek and takes totally 3 hours. Depends on how much time you spend at the top of the peak.
Is Ettina Bhuja Trek difficulty?
The trek is moderate and a very short trek. The view what you get from up there is mind blowing.
Is Ettina Bhuja Trek open now?
Yes it's open now. Starts at 6:00 am in the morning and ends at 3:00 am in the evening.
What is the distance from Mekanagadde homestay to Ettina Bhuja?
Around 8 Kms to the Byrapura village. Park the vehicle near temple and start trek
Where is Ethina Bhuja located?
It is located in the Byrapura village of Mudigere taluk, Chikmagalur district.