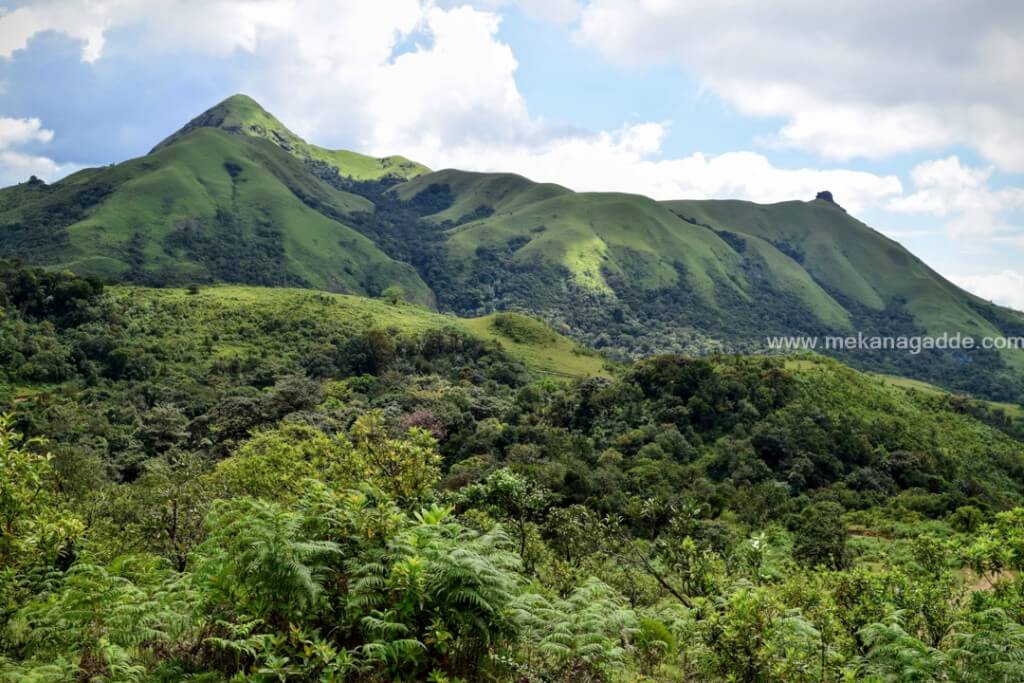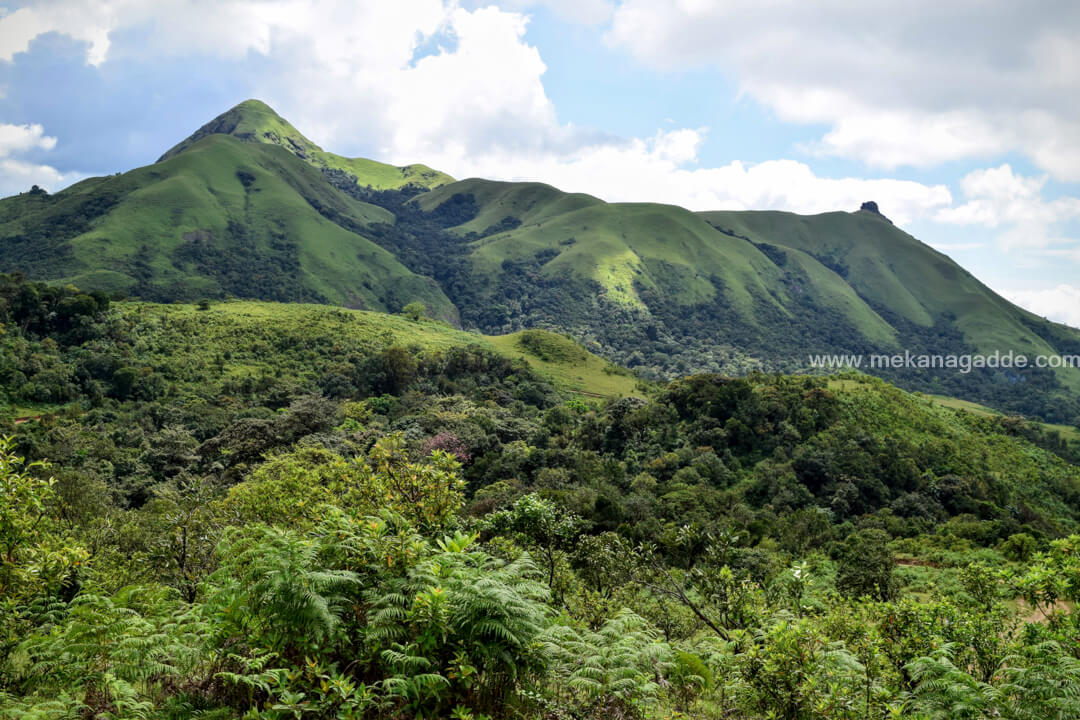 There's nothing better than a four-hour hike through the rainforest to get your blood pumping


At a distance of 8 km from Betta Byraveshwara Temple and 40 km from Sakleshpur, Jenukal Gudda or Jenukallu Gudda is a mountain peak in Hassan district of Karnataka. It is the second highest peak in Karnataka and among the best trekking places in Sakleshpur.
Jenukal Gudda is lapped amidst the thick green woods and rich plantations of coffee and is often frequented by trek-lovers from all parts of Karnataka. Jenukal Gudda is also termed as a honey stone mountain. Along with a panoramic view of the various hill blanketed with verdant greenery, Jenukal Gudda is a great place where you can bask in the vistas of Arabian Sea in Mangalore on a clear sunny day.
Jenukallu Gudda Peak can be reached by trek from Betta Byraveshwara Temple. The trek distance is about 8 km from the temple and it will take 4-5 Hours both ways. The initial part of the trek was gradual and walk was casual while the final stretch was steep. It was bit tricky at couple of places where one needs to navigate narrow path through the rocks with vertical fall on one side. This part would pose a challenge for the trekkers climbing during monsoon. Many famous peaks like Ettina Bhuja, Kumara Parvata and Sheshaparvata are visible from the hill top during clear days.
There is a nearby hill called Diggallu or Deepadha Kallu which is clubbed with Jenukal Betta for trekking. During the lush post monsoon months the hill top will be misty with very low visibility. It is dangerous to climb the mountain during monsoon.
Jenkal Gudda Photos
Which is the nearest homestay to Jenukallu Gudda?
How much is the trekking charge for Jenukallu Gudda Trekking?
Price varies depending on the trek guide and also depends on the group size.
How long is Jenukallu Gudda Trek?
Around 12 kms round trip trek and takes 8 hours depending on the trek distance you choose. Also depends on how much time you spend at the top of the peak.
Is Jenukallu Gudda Trek difficulty?
The trek is moderate and takes half day to trek. The view what you get from up there is mind blowing.
Is Jenukallu Gudda Trek open now?
Yes it's open now. Starts at 6:00 am in the morning and ends at 3:00 am in the evening. Not to go in summer season to avoid forest fires. During rainy season, this place receives heavy rainfall so better avoid.
What is the distance from homestay to Jenukallu Gudda?
Around 12 Kms to the peak. Park the vehicle near temple and start trek. There are two routes and the guide will decide on to take the route.
When is the best time to trek Jenukallu Gudda?
The best season is winter in between September and January.
NOTE: The trek is banned and not allowed to trek by Forest Department. If found illegal entry then hefty fine will be charged.